Adam just posted the themes for the November #BookDare reading challenge. Basically, you check the themes, read the books, talk about them, see suggestions from other readers, and maybe win a prize. Do you need any other reasons to join the fun?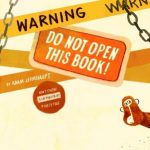 Adam's debut book,
Warning: Do not Open
This Book!
Go to author Adam Lehrhaupt's blog for
details
.
Without further ado, the November themes:
Thanksgiving is in November. Read a book with a Thanksgiving theme.
November 2 is Book Lover's Day. Read one of your favorite books.
November 11 is Veteran's Day. Read a book with service or the military as a theme.
November 13 is Sadie Hawkins Day. Read a book by a female author.
And here are your November bonus themes:
November 4 is Waiting for the Barbarians Day. Read a book with barbarians, vikings or other unruly type characters..
November 25 is National Parfait day. I have no idea what this means, but it seems like fun. Read a funny book.
November 29 is Black Friday. Read a book with black on the cover or in the title.
November 15 is the America Recycles Day. Read a book with an ecological theme.
Courtesy Lee Harper
The giveaway this month is for
Wendi Silvano
's
Turkey Claus
, illustrations by local favorite,
Lee Harper
.
Also please consider purchasing an on-demand copy of Lee's new book,
Coyote
. It's a book born of personal loss, but it certainly has wider appeal. The proceeds benefit the children and families of Sandy Hook.